Cullen Underpass: Perspectives

In collaboration with local mural artist
Gonzo247
, Cullen Underpass: Perspectives was chosen to transform the underpass at Cullen and I-45. It is now a place where both pedestrians and drivers can become closer with the rich history of four surrounding Houston neighborhoods. The icons presented garner a unique experience - specifically for pedestrians - to evoke curiosity behind the historical relevance of each object.
Press
Category: Identity, Environmental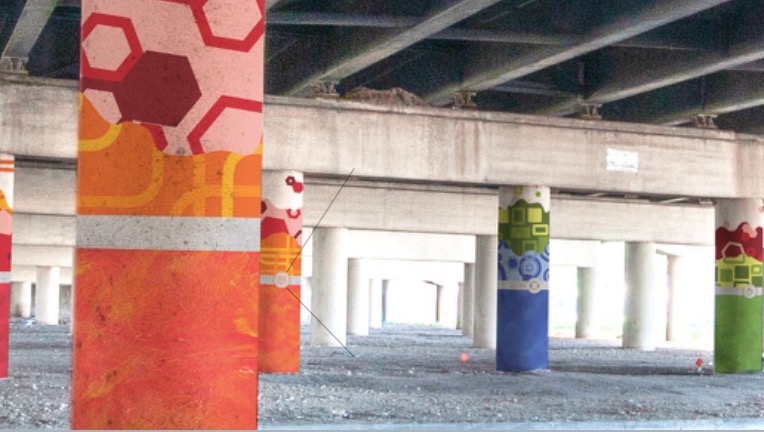 Every pillar has one icon painted within an exposed concrete band, which is connected to the bottom flood of color that represents a specific neighborhood. Each location has four different objects.





The multi-colored ring is a simplified representation of people from each neighborhood coming together, as a corner of each neighborhood intersects at this underpass.

East Downtown
EaDo is not only a central passageway into other sectors of the city, but a place where people come from different areas for leisure. This led to a stylization that signifies paths, while the orange portrays movement and livelihood.
Eastwood
Eastwood has maintained its recognizable appeal since its establishment. The main focus of Eastwood's design is to represent a tight-knit community that has preserved its visual appeal. The color green was inspired by the abundance of foliage in this neighborhood.
The Third Ward
The Third Ward is the heart of African-American culture, food and music in Houston. The repetition of circles symbolize the rhythm of music, while shades of blue embody the emotion of jazz and soul.
University of Houston
Hexagonal shapes depict the sense of community within this institution where students, faculty and alumni come together to form a hive-like network. Our design uses the color red to reflect school spirit.